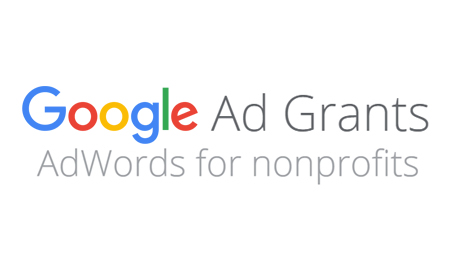 Is this a Missed Opportunity for your Non-profit?
Increase your non-profit's awareness and donations with Free Google Advertising.
Are you missing out on $10,000 per month in free advertising from Google?
Google Ad Grants is an incredibly generous program, but it's also a missed opportunity for many non profits. Why? Because it's not easy to spend your allotted $10,000/month in free advertising. The biggest part of Google Grants is the money, and if you don't use it, you lose it.
Now your advertising costs are free, but to be 100% clear, Google will not be managing it for you. So you or your representative must manage the account. Managing an AdWords account is time consuming and fairly complex, so that's why we offer to manage your non profit account for a very small monthly fee, which gives you more time to manage your non profit.
The average non profit in the program is only able to use about $330 a month of the available $10,000 per month in free Google Ads. This is a very important issue, because the more free ad money that can be used, means you increase your chances of getting more clicks to your website. More Clicks means more awareness for your non-profit and potentially much more donations.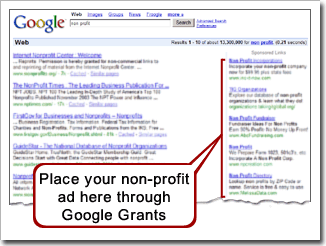 We help by developing a Google Ad strategy that helps your non-profit maximize this opportunity. For example, we will research and find high traffic keywords that will bring in much more traffic for your Google Ads, which results in a large increase of web traffic to your website. More website traffic can mean more donations and increased awareness of your non-profit.
We will setup and manage your non-profit AdWords account, which saves you time and allows you to build awareness & get more donations for your charity. Google AdWords provides a tremendous opportunity for a non-profit to expand its donor base and generate more revenue for your non-profit.
Google AdWords provides a very effective way to reach potential donors for your non-profit. Most people use Google search at some point, and when they do, they could see your Ad, which increases your non-profit's exposure to a vast audience using Google search. These Google search Ads will allow more people to learn about your non-profit and potentially increase your donations.
Feel free to contact me for more information regarding this exciting opportunity from Google. Here is my email: jason@lightraymarketing.ca
Program Details
Google Ad Grantees receive free AdWords advertising on Google search result pages. Ad Grantees build and manage their own AdWords accounts similar to paying advertisers, but participate with the following restrictions:
A daily budget set to $329 USD, which is equivalent to about $10,000 per month
A maximum cost-per-click (CPC) limit of $2.00 USD
Only run keyword-targeted campaigns
Only appear on Google search result pages
Only run text ads
Go here for more program information - http://www.google.ca/intl/en/grants/index.html
Is your Non profit eligible for Google Ad Grants?
Go here for the Eligibility requirements: http://www.google.ca/intl/en/grants/eligibility.html